Buchholz, Richard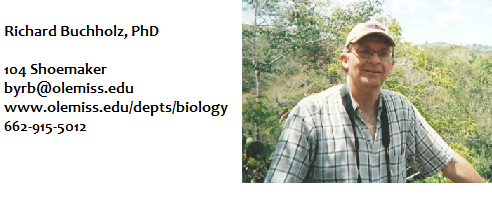 Research Interests:
Animal Behavior
Host-Parasite Interactions
Conservation Biology
Courses
BISC 102 Inquiry into Life: Human Biology
LIBA 102 The Ecology of Food
BISC 350 Mammalogy
BISC 512 Animal Behavior
BISC 622 Behavioral Ecology
BISC 677 Special Topics in Ecology & Evolution
Education:
Ph.D. University of Florida
Publications
Buchholz, R., Yamnik, P., Pulaski, C. & Campbell, C. 2008. Conservation and Behaviour, In: Encyclopedia of Life Sciences. John Wiley & Sons, Ltd: Chichester. http://www.els.net/ [DOI: 10.1002/9780470015902.a0021217]
Buchholz, R. 2007. Behavioural biology: an effective and relevant conservation tool. Trends in Ecology and Evolution 22(8): 401-407
Buchholz, R. and Bertsch, C. 2006. Yellow-knobbed Curassow (Crax daubentoni). Pp. 91-94 In: Conserving Cracids: the most Threatened Family of Birds in the Americas (D.M. Brooks, Ed.). Misc. Publ. Houston Mus. Nat. Sci., No. 6, Houston, TX.
Buchholz, R. 2004. Effects of parasitic infection on mate sampling by female wild turkeys (Meleagris gallopavo): Should infected females be more or less choosy? Behavioral Ecology 15(4): 687-694.