Graduate Student Opportunities in the Day Lab
Adventure in Panama, Suriname, and Guyana:
The Neurobiology and Endocrinology of Manakins.
A position is open for a graduate student in the laboratory of Dr. Elaine Day  in the Biology Department at the University of Mississippi, Oxford, MS.Successful applicants will be involved in studies analyzing the relationship between neuroanatomy / neuroendocrinology and courtship display complexity in birds of the manakin family (Pipridae).  Fieldwork will take place in Panama and along the Amazon Basin in Suriname and Guyana.
Fieldwork will include long hours of mist-netting birds beginning before dawn, processing of tissue samples, and assistance conducting behavioral studies. Laboratory work will include immunocytochemistry, in situ hybridization, and molecular techniques including PCR and qualitative PCR. Experience with these techniques and previous mist-netting experience is preferred as is experience living or working in the tropics. Applicants should be creative, independently motivated, and work well with others. Proficiency in Spanish or Dutch is useful. Applicants must have a valid driver's license from their country of origin and be able to operate manual transmission.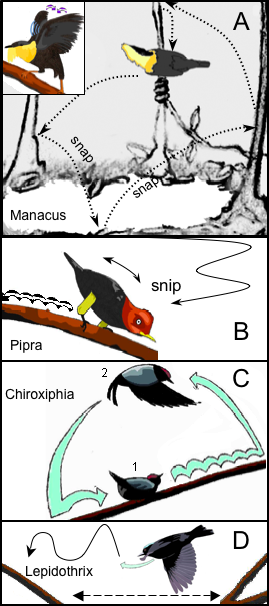 Graduate students must be able to start by Fall of 2012. Strong preference will be giving for commitment to fieldwork in summer of 2012. Graduate students will be supported by a research assistant stipend for three years and by a teaching assistantship for the remainder of their studies.
Graduate students should apply at the graduate school AND send a letter directly to Dr. Day (lainyday@olemiss.edu) informing her of your interest in the program with a summary of your GRE scores, GPA, and a one-two page statement of purpose. Instructions for applying to the Biology graduate program can be found here.
The University of Mississippi is located in Oxford, Mississippi, one of the top college towns in the U.S., and a community known for outstanding educational and cultural opportunities (http://www.oxfordms.com/  and   http://www.oxfordcvb.com/). The University of Mississippi is an EEO/AA/Title VI/Title X/Section 504/ADA/ADEA employer.